What Waterproof Rating Should You Choose for Doorbells and Outdoor Cameras?
When selecting doorbells and outdoor cameras, many customers pay special attention to the waterproof rating of the products. However, achieving a higher waterproof rating requires a longer product development cycle, increased research and development costs, and higher product costs. Consequently, more and more businesses, unable to achieve excellent waterproof ratings, tend to use vague terms like "rainproof" to provide users with a general idea, which can lead to misinformation.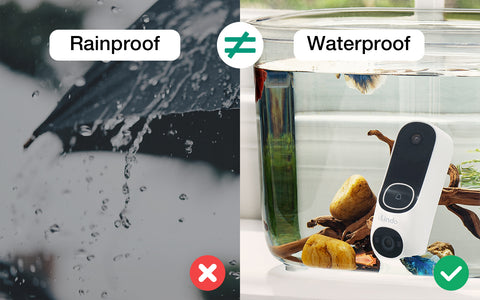 But what do these waterproof ratings actually mean? Let's take a closer look: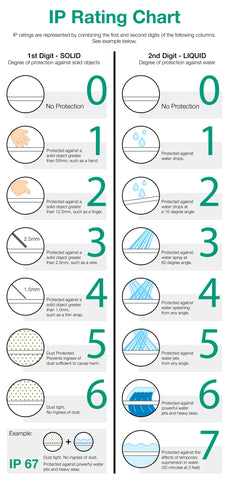 IP65 Waterproof Rating: This rating indicates that the device is protected against low-pressure water jets from any direction. It offers sufficient protection against most rainfall, making it suitable for areas with light to moderate rain. However, it may not be entirely waterproof in heavy rain or submerged in water.
IP67 Waterproof Rating: This rating signifies that the device is dust-tight and can withstand immersion in up to 1 meter of water for up to 30 minutes. It provides superior protection against rain and moisture, making it ideal for areas with heavy rainfall or harsh weather conditions. It ensures reliable performance even when exposed to challenging outdoor environments.
We recommend that users pay close attention to the waterproof rating when choosing a product, especially if you reside in an area with frequent moderate to heavy rain or even harsh weather conditions. In such cases, we suggest selecting products with an IP67 waterproof rating. If your area experiences less rainfall or mainly light rain, we still recommend choosing products with a waterproof rating of at least IP65.
In areas with moderate to heavy rain, products with lower waterproof ratings are prone to water ingress. Even with minimal water ingress, moisture can accumulate inside the doorbell or outdoor camera, leading to blurry images. With excessive water ingress, the device may become non-functional. Both blurry images and device failure due to water ingress are irreversible.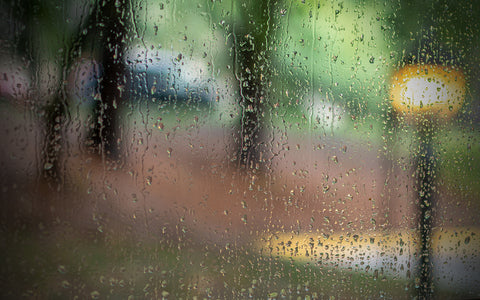 At Lindo, we understand the importance of longevity and stability in challenging weather conditions. That's why we have standardized our outdoor doorbells and cameras with an IP67 waterproof rating, providing you with peace of mind and reliable performance even in the harshest elements.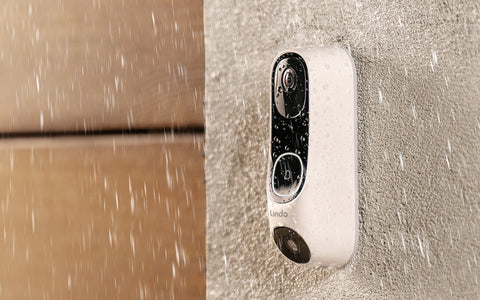 ---